PR Friday at the Naperville Invite!
2 min read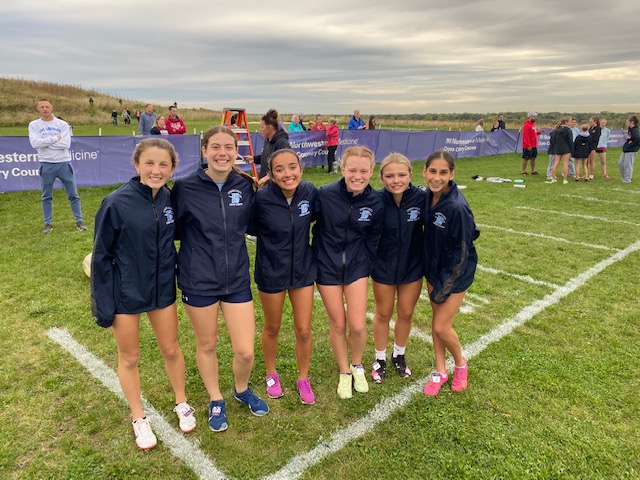 On Friday, September 23rd, the DGS girls cross country team traveled to Geneva to compete in the Naperville Girls Invitational. The meet was held on the new Northwestern Medicine CC course. This is a hilly, dedicated cross country course that first opened last season and was built on a former garbage dump site that looks to become area favorite course. Conditions were perfect with temperatures in the low 60's as the Mustangs took to the starting line in 3 races. Out of 26 DGS athletes that raced on Friday, 18 of them ran season best times! 
In the varsity race, Nora Joy (Sr) led the way with her 29th place finish in a seasonbest time of 19:37. She was followed closely by Arianna DeLeon (Sr) with her 31st place finish in a SB time of 19:43. Sophie Ring (Jr), Greta Paschall (So), Claire Posmer (Fr), and Kate Dziewinski (So) completed the varsity Mustang finishers.
Jacie Selig (Fr) 20th-21:14, Mar Duran (So) 22nd-21:23, and Lena Baker (So) 23rd-21:24 were the top Mustangs in the F/S race all running season best times. Elle Watson (Fr) 58th-21:49 and Emily Gantz (Fr) 58th-23:14 completed the top 5 scoring for DGS.
The JV team had arguably the best race of the evening with 3 runners finishing in the top 10. Skyler Tomecki (Sr) 5th-20:20, Lindsay Spear (Sr) 6th-20:24, and Rachel Rodi (Jr) 8th-20:37 all finished with season best times. Anjali Kota (Sr) 31st-22:07 and Isabella Gutierrez (Sr) 57th-23:38 ran SB times as well rounding out the Mustang scoring.
Full meet results can be found at Athletic.net. Individual times and splits for all DGS athletes can be found the Schedule/Results page. The Mustangs compete next on Monday, September 26th in a WSC Gold home dual meet with Morton that will also be our Senior Night. That meet will be followed up by the Niles West Pat Savage Invitational on Saturday, October 1st.