2020 Girls CC Season Concludes
2 min read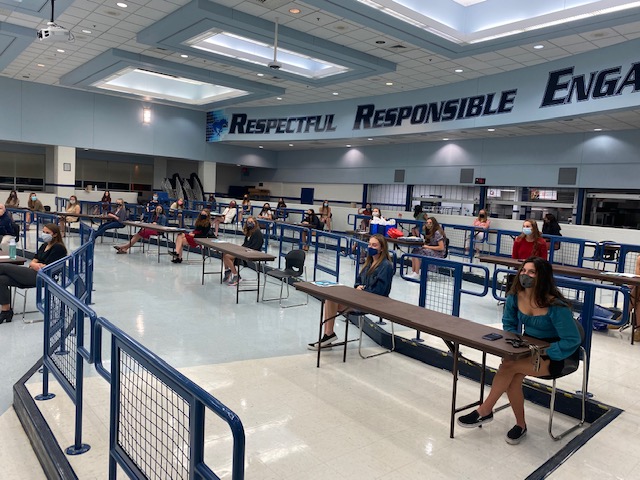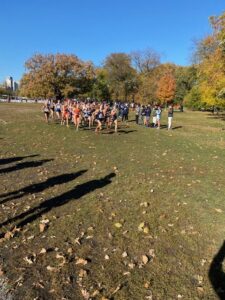 Amidst the uncertainty of 2020, the DGS girls cross country team was able complete our entire season. The final meet of the year was the IHSA Sectional meet hosted by Whitney Young HS at Lincoln Park in Chicago. The Mustangs placed 5th out of 15 teams, which was a state qualifying position for the entire team. This marks the 10th straight season that DGS has qualified for the IHSA State Finals. Unfortunately, the IHSA decided not to hold the state championship meet and the Mustang season ends here. DGS full team results can be found on the CC Schedule/Results page as well as Athletic.net.
On Thursday, November 5th, the team held its annual awards night for juniors and seniors. Individual participation awards were given out as well as several special awards. Certificates were given to our IHSA Academic Award winners (juniors and seniors with 3.5 GPA or higher). That group was Isabel Bowditch, Kelsey Casella, Elise D'Aquila, Maddie Duitsman, Angie Hernandez, Sara Homberg, Peyton Horazy, Yasmine Khan, Renee Kowalski, Saskia Krebbers, Bella Lapacek, Emma Lopez, Serilda McNerney, Sophia McNerney, Maya Scheck, Madi Sisson, Alex Spang, Meghan Stapleton, Lily Vincent, Madolyn Werner, and Madison Wies.
Certificates were also given to the WSC Academic Award winners (seniors with 3.0 GPA or higher). That group included Rebecca Diddia, Maddie Duitsman, Yasmine Khan, Saskia Krebbers, Maya Scheck, Meghan Stapleton, Lily Vincent, and Madison Wies.
Additionally, the WSC All-Conference awards were given to those varsity athletes who finished in the top 16 at the conference championship meet. Those girls were Sophia McNerney, Kelsey Casella, Rebecca Diddia, Alex Spang, Madi Sisson, Rachel Rodi, and Nora Joy.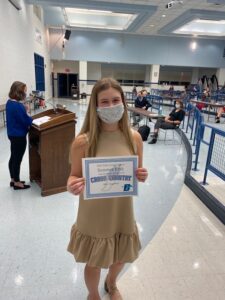 Team captains presented 'captains awards' that were voted on by the entire team. Those awards were Best Hair (Nora Joy), Best Dressed (Alex Spang), Most likely to be a Pro runner (Sophia McNerney), Most likely to become a coach (Madi Sisson), Most likely to be in a running magazine (Kelsey Casella), Most likely to break the 3-foot rule (Jules Rossi), Best Kick (Chloe Dawson), Best Cheerer (Isabel Bowditch), and Most likely to forget her spikes (Beth Madella).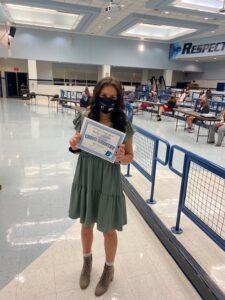 Coaches then presented certificates to 4 juniors and seniors that improved their 3-mile times by 1 minute or more from last year to this year.
That was followed by Yasmine Khan earning the Coaches Award plaque for her leadership efforts during this trying season.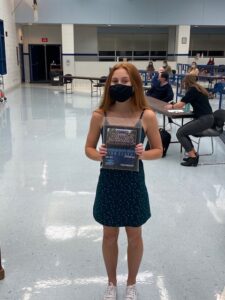 Kelsey Casella earned the Sportsmanship Award for her team-first attitude, support, and leadership skills that were constantly on display.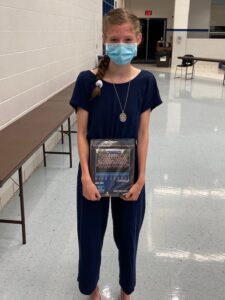 Finally, the last award of the evening was Most Valuable Athlete. Sophia McNerney earned that award for her exceptional efforts at both practices and meets. Sophia was undefeated all season until the very last meet and she finished as the top DGS runner in each of our meets.