DGS wins IHSA Regional Championship!
2 min read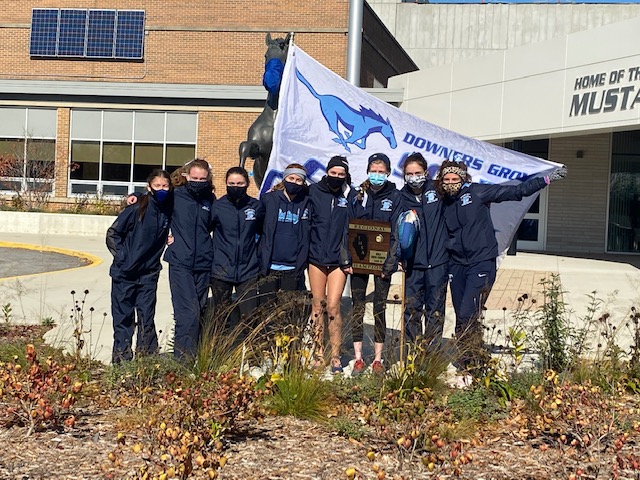 The DGS Girls Cross Country team traveled to Marist HS in Chicago to compete in the IHSA Regional meet. The Mustangs finished 1st out of 12 teams, narrowly defeating rival Downers Grove North 46-48. This marks the 5th straight Regional title that DGS has won, a streak dating back to the 2016 season. Sophia McNerney (Jr) set the tone early on by easily winning the first of 3 flighted races. Sophia's time of 17:25 gave her the individual championship by nearly 20 seconds over Catie McCabe of Hinsdale Central. Kelsey Casella (Jr) joins Sophia on the All-Regional team with her 5th place finish in 18:07. Alex Spang (Jr) won the 2nd flight race in 18:25, and after the merge, ended up in 7th place overall. Rachel Rodi (Fr) led most of the 3rd flight before finishing 2nd in 18:45. After the merge, Rachel finished in 16th place overall. She was followed closely by Rebecca Diddia (Sr) who was 17th in 18:46, and Madi Sisson (Jr) who was 18th in 18:49. Nora Joy (So) ran a PR time 19:41 to finish 29th in the field of 79 runners. T
DGS full team results can be found on the CC Schedule/Results page as well as Athletic.net. Race videos from our Twitter Live broadcast can be found below. The DGS varsity will compete next Saturday in Lincoln Park, Chicago, in the IHSA Sectional meet hosted by Whitney Young HS.
IHSA Regional Flight#1 Twitter Live video
Marist Regionals – 1&2 https://t.co/LLGysr0BsU

— DGS Girls Distance (@DGSCC) October 24, 2020
IHSA Regional Flight#2 Twitter Live video
Marist Regionals – #3&4 https://t.co/WCRiO5Bm0Y

— DGS Girls Distance (@DGSCC) October 24, 2020
IHSA Regional Flight#3 Twitter Live video
Marist Regional -5,6 & 7 https://t.co/ZZz2DK0G8n

— DGS Girls Distance (@DGSCC) October 24, 2020