DGS defeats Glenbard West 18-39
2 min read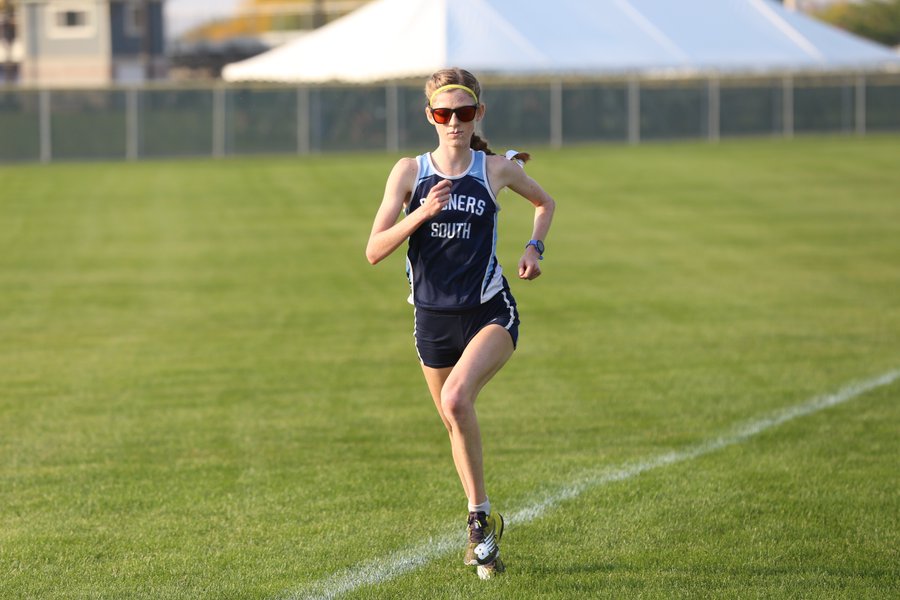 Downers Grove South hosted Glenbard West on Saturday morning, Oct. 10th. The Mustangs bettered the Hilltoppers 18-39 in the varsity race. The meet had been built up as a match-up between DGS upstart, Sophia McNerney (Jr) and GW all-stater, Audrey Allman (Jr). Unfortunately Allman sat out of the race with some minor ailments, so McNerney ended up cruising to the victory unchallenged. Sophia won the race with a very respectable time of 17:35. She was followed into the chute by Kelsey Casella (Jr) who placed 2nd in 18:23. The trio of Rebecca Diddia (Sr), Alex Spang (Jr), and Madi Sisson (Jr) completed the Mustang scoring, finishing in 4th, 5th, and 6th with times of 19:20, 19:20, and 19:41.
The Mustangs lost their first JV1 and JV2 races of the season to the WSC Silver opponent. Madolyn Werner (Jr) was a bright spot in the JV1 race, finishing 4th overall in a PR time of 21:05. She was followed by Emma Lopez (Jr) in 6th, Lindsay Spear (So) in 7th, Meghan Stapleton (Sr) in 12th, and Elizabeth Laverty (Fr) in 14th. In the JV2 race, Maddie Duitsman (Sr) was the top DGS finisher in 6th place. She was followed by Milleena Heard (Fr) in 7th, Ava Nichols (Jr) in 8th, Grace Stapleton (Fr) in 11th, and Zaina Dakak (Fr) in 12th.
DGS full team results can be found on the CC Schedule/Results page. Complete race results can be found on Athletic.net. Race videos from our Twitter Live broadcast can be found below. The Mustangs will race again on Monday against WSC Gold rival Hinsdale South. On Saturday, the varsity top group will race in the WSC Gold Championships at Proviso West. The following week on Oct.20th, the remainder of the team will take on the Downers Grove North to conclude the season.
Varsity Race Twitter Live video
DGS vs GW – Race 1 https://t.co/9Zgo4CcIee

— DGS Girls Distance (@DGSCC) October 10, 2020
JV1 Race Twitter Live video
DGS vs GW – Race 2 https://t.co/jVENB7e4T0

— DGS Girls Distance (@DGSCC) October 10, 2020
JV2 Race Twitter Live video
DGS vs GW – Race 3 https://t.co/Tsl9nlC5D6

— DGS Girls Distance (@DGSCC) October 10, 2020