Mustangs race DGN and Morton over the weekend!
3 min read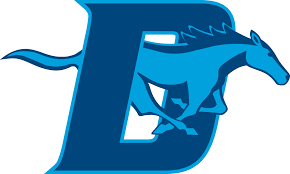 On Friday, October 2nd, DGS took 8 girls to the Downers Grove North stadium to race the host Trojans. The race distance was a 5K (5000m) and it was competed on the DGN track. The Trojans edged out the Mustangs with a dual meet score of 27-30. Sophia McNerney (Jr) once again led DGS with the individual win and continued her unbeaten season. Sophia went out fast, pulled away from the field, and kept pressing. Her time of 17:27 for 5K is a huge PR. On her way to the 5K finish, Sophia completed 12 laps (roughly 3 miles) in 16:46, which would be the fastest time in the state.
Kelsey Casella (Jr) continued her outstanding season, finishing a close 3rd behind DGN's standout runner, Melissa Jachim. Kelsey's time of 18:43 was a big PR and she passed through 12 laps in 17:51. Alex Spang (Jr), who is working her way back from an injury, had her best race of the season finishing 5th overall with 18:57 (18:11 for 12 laps). Rebecca Diddia (Sr) and Madi Sisson (Jr) ran different races, but ended up at the finish line together placing 10th and 11th with identical times of 19:32. Rebecca went out faster at the beginning of the race, and Madi had a strong finish to close up the gap. Nora Joy (So) finished the 5K race in 20:09, Madelyn Sumlin (So) finished in 20:26, and Renee Kowalski (Jr) finished in 20:37.
On Saturday, the remainder of the team raced against Morton on our home campus course. Morton's top runner, Isabel Trujillo, set the early pace and led the varsity race through the first mile. Rachel Rodi (Fr) was following close behind and took over the lead just before the halfway point. Rachel continued to put more distance between her and second place and finished with her first win of the season. Rachel's time of 19:50 was a huge 3.0 mile PR for her. Sophie Ring (Fr) battled with the Morton runner throughout the second half of the race and eventually outkicked her in the final 200m to finish 2nd overall in a PR time of 20:18. Serilda McNerney (Jr) finished 4th overall in a PR time of 20:28, Sophia Nelson (Fr) finished 5th in 20:42, and Madison Wies (Sr) came from way back to with a big PR to finish 6th in an identical 20:42 time. DGS won the meet 18-45 over Morton.
In the JV1 race, Lindsay Spear (So) took command early on and led most of the race. Emma Lopez (Jr) held back early, but came on strong in the last half mile and used a great kick to pass Lindsay and finish 1st overall. Emma's time of 21:21 was a PR. Lindsay held on to finish 2nd in 20:24. Meghan Stapleton (Sr) took 3rd place in 21:30, Sophia Johnson (Fr) was 4th in huge PR of 21:39, and Madolyn Werner (Jr) was 5th in 21:51. DGS ended up with the first 18 finishers in the race, easily winning the meet 15-50 over Morton.
In the final race of the morning, Aniya Newman (Fr) set a fast early pace for the field. Morton freshman, Brigitte Solano, took over the lead at the halfway point and took the individual win. Ava Nichols (Jr) caught up to Aniya and the two of them kicked hard to the finish with Ava finishing 2nd in a PR of 24:12. Aniya finished a close 3rd with a massive PR time of 24:16. Grace Stapleton (Fr) finished 5th overall in 24:38, Milleena Heard (Fr) finished 6th in a PR time of 25:04, and Joyce Awad (Fr) finished 7th a PR time of 25:10. DGS won the JV2 race by a score of 23-38 over Morton.
Despite the varsity loss to a very good DGN team, it was a successful weekend and left our WSC Gold conference record at 5-0. DGS full team results can be found on the CC Schedule/Results page. Race videos from our Twitter Live broadcast can be found below, unfortunately the JV1 race broadcast had technical difficulties and didn't record. The Mustangs will race again next Wednesday (Oct 10) at HOME against Glenbard West.
Varsity Race vs DGN Twitter Live video
DGS vs DGN Varsity https://t.co/qc0ooVVxhG

— DGS Girls Distance (@DGSCC) October 2, 2020
Varsity Race vs Morton Twitter Live video
DGS vs Morton – Race 1 https://t.co/qstCd3uSqv

— DGS Girls Distance (@DGSCC) October 3, 2020
JV2 Race vs Morton Twitter Live video
DGS vs Morton – Race 3 https://t.co/rv6Upg9v8S

— DGS Girls Distance (@DGSCC) October 3, 2020