DGS battles Hinsdale South!
2 min read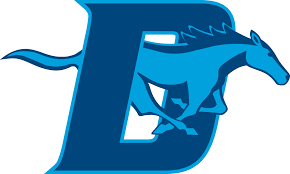 On Monday, Oct.12th, the DGS girls cross country team played host to Hinsdale South HS in the final WSC Gold dual meet of the season. The Mustangs raced the Hornets on the 3 mile DGS campus course. DGS prevailed in the opening varsity race by the score 17-46 over Hinsdale South. This win puts the DGS conference record at 6-0 as the varsity heads into this weekend's conference championship meet.
In Monday's race, the Mustangs had a pack of 4 athletes lead the entire race and eventually finish in the top 4 places. Rachel Rodi (Fr) used a strong kick to win her 2nd varsity race of the season in a PR time of 19:49. Nora Joy (So) was the 2nd runner into the chute, finishing with a time of 20:04. Sophia Nelson (Fr) and Renee Kowalski (Jr) came in 3rd and 4th with times of 20:14 and 20:41 respectively. Both Sophie Ring (Fr) and Madison Wies (Sr) sprinted together towards the finish for 6th and 7th places, in nearly identical times of 20:51 and 20:52 to complete the Mustang scoring.
In the JV race, Bella Lapacek (Jr) led a pack of Mustangs for much of the race until Amelia Bicek (Fr) charged to the lead in the last mile. With less than 200m to go, Bella used a fierce kick to overtake Amelia and complete her 2nd JV win of the season. Bella finished in 22:15, while Amelia finished in 22:19. Elizabeth Laverty (Fr) led a chase pack of Mustang freshmen into the chute as she finished 3rd in 22:37. Liz was followed by Gabby Okuku (Fr) in 4th with 22:59, Abbey McGinley (Fr) 6th in 23:41, and Marin Atseff (Fr) 7th in 23:45 to secure the 16-47 DGS team victory.
Overall, it was a good race for the team as the Mustangs stay undefeated within the WSC Gold conference since 1998. DGS meet results with splits can be found on the CC Schedule/Results page. Complete race results can be found on Athletic.net. Race videos from our Twitter Live broadcast can be found below.
Varsity Race Twitter Live video
DGS vs HS -Race 1 https://t.co/2b1w5jsvX7

— DGS Girls Distance (@DGSCC) October 12, 2020
JV Race Twitter Live video
DGS vs HS -Race 2 https://t.co/vm1E6RlnOj

— DGS Girls Distance (@DGSCC) October 12, 2020