DGS wins WSC Gold Conference!
2 min read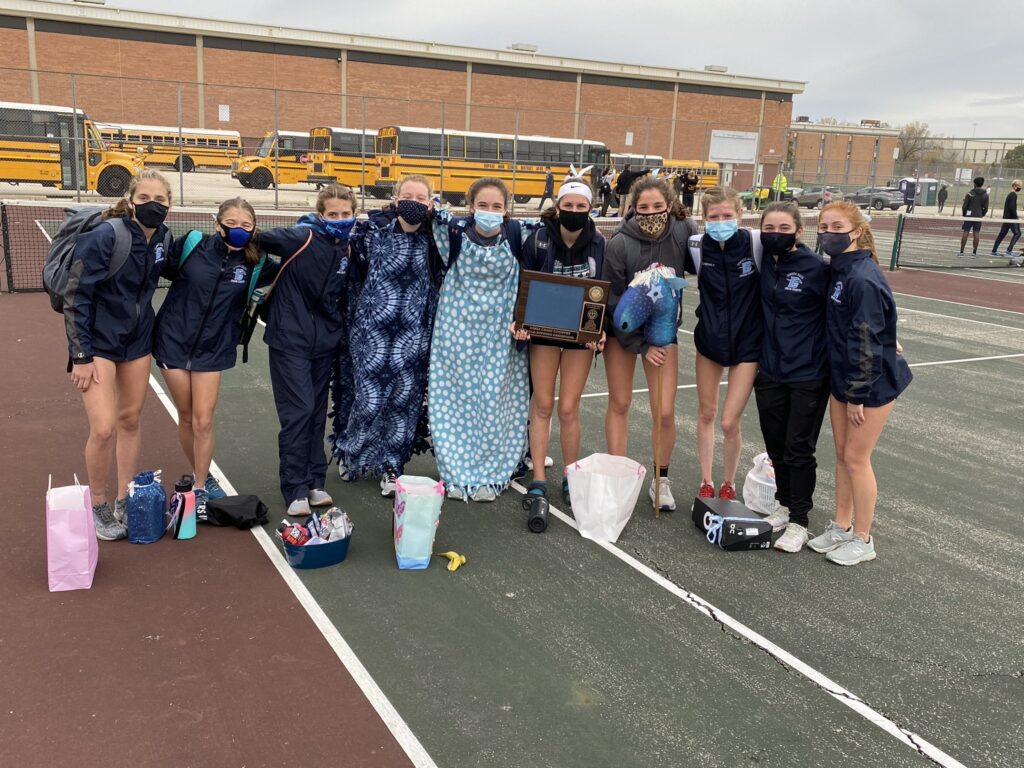 On Saturday, October 17th, DGS took 10 girls to Proviso West HS to race the WSC Gold Conference varsity races. The Mustangs prevailed to win their 22nd consecutive conference title! The team scores were DGS 22, Hinsdale South 58, Morton 99, Willowbrook 116, Addison Trail 120, and Leyden 140. Unfortunately this season, only the varsity level was contested for the conference championship. The varsity was divided into 2 races with each team able to enter 5 girls in each race with the results of each race eventually being merged together. Only the top 7 runners from each team were counted as part of the team scores and for the all-conference awards.
The races were held on a long Proviso West course (3.15 miles) and with a strong south wind. In the first race of the day, Rachel Rodi (Fr) and Nora Joy (So) took the lead during the first 1/2 mile and ran together for most of the race. In the end, Rachel's kick was a little stronger as they took 1-2 in this race, and eventually finishing 8th and 9th overall after the merge. DGS swept the top 5 positions of the first race with Madelyn Sumlin (So) eventually finishing 12th after the merge, Sophia Nelson (Fr) finishing 16th, and Renee Kowalaski (Jr) finishing 22nd in the field of 60 total finishers.
The second race featured the top 5 runners from each conference team. Sophia McNerney (Jr) once again led DGS with the individual win and continued her unbeaten season. Sophia took the lead early on, created some separation, and then was never really challenged all the way into the finish. Kelsey Casella (Jr) continued her breakout season, finding herself in a battle with Viviana Sanfilippo, the number 1 runner from Addison Trail. The two of them traded the lead back and forth, until Vivianna's final kick bested Kelsey by 1 second. Alex Spang (Jr), Rebecca Diddia (Sr) and Madi Sisson (Jr) moved up together and battled the number 1 runner from Hinsdale South, Abby Petersen. The three Mustangs finished 5th, 6th, and 7th, after Petersen pulled away with a strong kick at the end to place 4th.
The first 7 Mustang finishers (Sophia, Kelsey, Rebecca, Alex, Madi, Rachel, and Nora) earned all-conference honors! Sophia's victory marked the 10th year in a row that a DGS athlete has won the varsity individual title. DGS full team results can be found on the CC Schedule/Results page as well as Athletic.net. Race videos from our Twitter Live broadcast can be found below. The DGS varsity will compete next Saturday morning at Marist HS in the IHSA Regional meet. The remaining Mustangs will conclude their season with a dual meet vs Downers Grove North at HOME next Tuesday (Oct 20).
WSC Gold Varsity Race #1 Twitter Live video
WSC Gold Conference Meet https://t.co/TrLW6zDMLF

— DGS Girls Distance (@DGSCC) October 17, 2020
WSC Gold Varsity Race #2 Twitter Live video
WSC Conference Meet -Race 2 https://t.co/iIsCrVVJ4h

— DGS Girls Distance (@DGSCC) October 17, 2020