NXR Midwest Results!
2 min read
Several members of the DGS girls cross country team traveled to Terre Haute, Indiana last weekend for the Nike sponsored NXR Midwest Regional meet. Even though the official DGS season concluded with the Nov. 5th IHSA State meet, these girls chose to organize as the 'Downers South Distance Club' and compete in one final race. The meet was held at the Lavern Gibson Championship Cross Country 5K course which is also the site of this year's NCAA D1 national championship race. High school competitors from Illinois, Indiana, Missouri, Michigan, and Ohio gathered to try and earn a spot in the NXN meet to be held in Portland next month.
Most of the top teams from Illinois and the surrounding states entered the competition on Sunday. While the teams are not officially affiliated with their respective high schools, most teams organize themselves as a club with parent sponsors in order to compete. The top 2 teams and the top 5 individuals qualified for the Dec. 3rd NXN meet. The field included state championship teams from 5 different states. The DGS girls performed exceptionally well and finished 7th overall as the teams from Illinois seemed to be stronger as a group. Although Indiana state champions, Carmel HS finished 1st, teams from Illinois finished 2nd, 3rd, 4th, 6th, 7th, and 8th out of 31 teams entered in the championship division. In addition to Carmel HS, Naperville North (Illinois 3A champions) earned the 2nd qualifying position for NXN. Both Minooka (3rd) and Yorkville (4th) could earn at-large invitations to the Portland meet.
Brenna Cohoon (Fr) led the DSDC team with her 59th place finish in the slightly longer 5K race. DGS state meet competitors Katie Stapleton (Sr), Melissa Weidner (So), Erin Reidy (Fr), Becky Versaskas (So), Olivia Duax (So), and Kennedy Warden (Fr) also competed in the championship division race. Allison Calek (So) led the DSDC team that competed in the Open Invitational race. Individual results/splits can be found on the Schedule/Results page. Full meet results and team scores can be found on the Athletic.net website. Pictures from the meet can be found on the Pictures/Video page.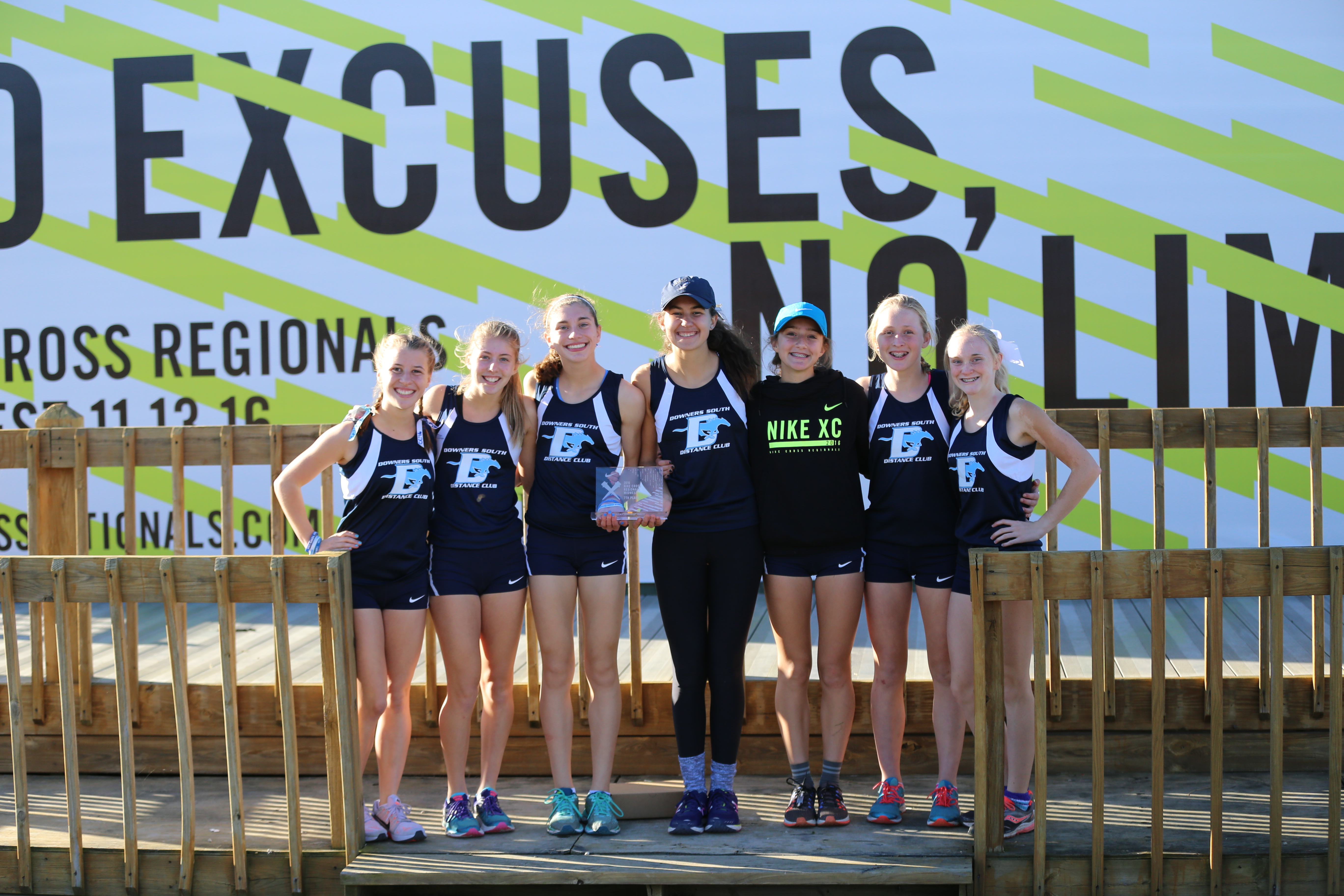 Thanks to parents Mike Weidner, Laura Duffy, and Karin Warden for organizing the trip for the girls. And thanks to all of the parents that provided uniforms, transportation, etc. and helped make the trip possible.