Megan Rossi-Bremer elected to DGS Hall of Fame!
2 min read
Megan Rossi-Bremer (DGS class of 2003) has been elected to the DGS Athletic Hall of Fame. Megan was a two time All-State performer in track & field as a member of the 4x800m relay and the pole vault.
Megan was an individual state qualifier in the 800m run and the anchor leg on the all-state 4x800m relay team in 2002. She also held the indoor school record in the 800m until it was recently broken 2 years ago.
Megan was even more accomplished as a pole vaulter.  She was one of the pioneers in the girls' pole vault event in Illinois.  Girls began competing in the pole vault in Illinois when Megan was a sophomore in 2001.  She took up the challenge and became one of the best female vaulters in Illinois in 2002 and 2003, culminating with her 4th place finish in the 2003 state meet.  Megan still holds the DGS school record in the pole vault (11'3").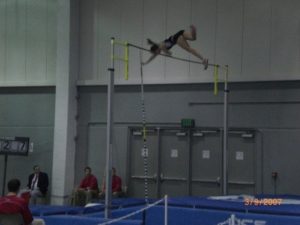 Megan went on to compete at North Central College in Naperville where she won NCAA DIII national championships in the pole vault twice (2005 & 2007).  In 2007, her vault of 12'11.5" set the DIII national record.
Megan also ran on the varsity cross country team and was the homecoming queen her senior year.
Megan is currently a teacher at Winnebago Middle School in northwest Illinois and coaches the pole vaulters at Winnebago High School. She is married to Jacob Bremer and is also the mother of three. Hall of Fame induction will take place on January 28, 2017 prior to the tip off of the boys varsity basketball game at approximately 5:45pm.
Congratulations Megan!!