Girls CC Meet Results…
3 min read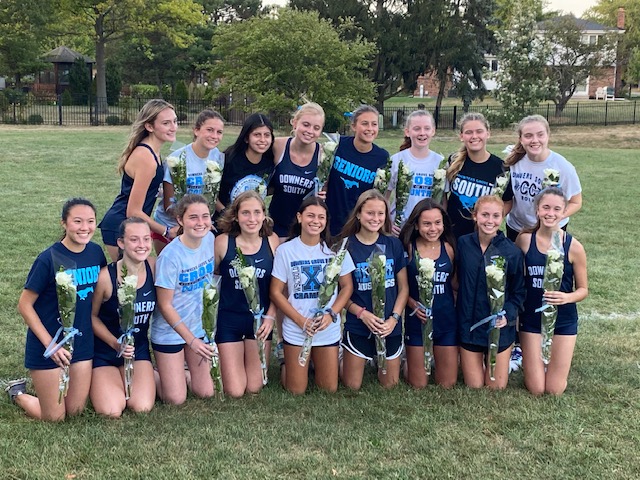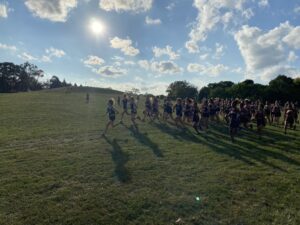 The DGS girls cross country team competed in 3 meets over the past week. On September 20, the Mustangs hosted their only home meet of the season versus Morton and Addison Trail. On Friday, September 24, the Mustangs traveled to St. James Farm to race in the Naperville Invite. And on Monday, September 27, the Mustangs raced Hinsdale South at Katherine Legge Memorial Park (KLM) in Hinsdale.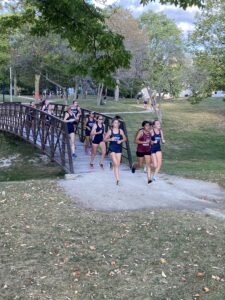 The meet on September 20 was also Senior Night. The host Mustangs sent our seniors out in style, easily defeating both Morton and Addison Trail. Rachel Rodi (So) won the race in 20:05, followed Sophie Ring (So) in 2nd place (20:28), Sophia Nelson (So) in 3rd place (20:38), and Skyler Tomecki (Jr) in 4th place (21:10). Arianna DeLeon (Jr) closed out the scoring with her 7th place time of 21:16.
At the Naperville Invite, the varsity ran short-handed without 2 of our top 3 runners. The Mustangs still managed to place 4th out of 10 teams and were led by Holly Johnson (Fr) who placed 1st overall in 17:45. Nora Joy (Jr) ran a strong last 2 miles to finish 19th overall in 19:32. Madi Sisson (Sr) was close behind, also registering a time of 19:32 in 20th place. Rachel Rodi (So) was our #4 runner, finishing 30th in 19:52 followed closely by Sophie Ring (So) in 19:54.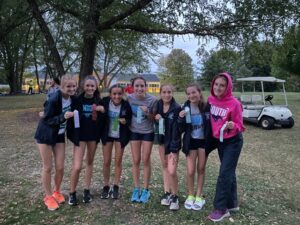 The JV team fared a little better at Naperville, placing 2nd overall as a team. The Mustangs had 3 top 10 finishers in the race, led by Skyler Tomecki (Jr) who placed 3rd in 20:40. Arianna DeLeon (Jr) placed 5th in 20:45, and Sara Homberg (Sr) placed 8th in 20:53. Madolyn Werner (Sr) and Lindsay Spear (Jr) rounded out the DGS scoring placing 12th and 14th respectively.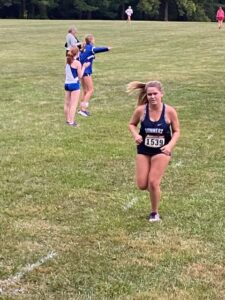 The F/S team has been dealing with several injuries that has slowed us down somewhat. The team placed 10th at Naperville, led by freshman, Mar Duran's 23rd place finish in 22:12. Mikaela Cresse (Fr), Abbey McGinley (So), Ashley Cotner (Fr), and Grace Stapleton (So) completed the Mustang scoring as our top 5 finishers.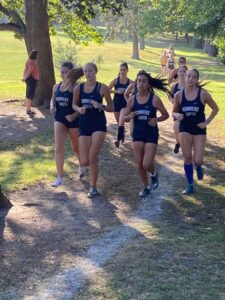 On September 27, DGS narrowly defeated Hinsdale South at KLM Park. The team score was actually a tie (28-28), but the Mustangs pulled out the victory based on the 6th runner tie-breaker. Rachel Rodi (So) once again led the Mustangs with the overall race win in 21:00. Hinsdale South had the next 3 finishers and put our undefeated conference record in jeopardy. But Renee Kowalski (Sr) came in next in 5th place, followed by Sara Homberg (Sr) in 6th, and Madolyn Werner (Sr) in 7th. After a Hinsdale South runner placed 8th, the score stood at 17-19 in favor of HS. Angie Hernandez (Sr) then placed 9th to give DGS a total of 28. Emma Lopez (Sr) then outraced a HS runner into the chute, finishing 10th, while the 11th place finish of the HS runner gave the Hornets a final score of 28 as well. But Emma's finish in 10th as our 6th runner, came ahead of the Hinsdale South's 6th runner who finished in 13th overall, giving DGS the tie-breaker and the win!
Results from all 3 meets can be found on the Schedule/Results page. The varsity top 7 will travel to Peoria this coming weekend for the Peoria Central Invite, and the remainder of the team will compete at the Pat Savage Invite at Niles West HS.