DGS moves to 3-0 in conference!
2 min read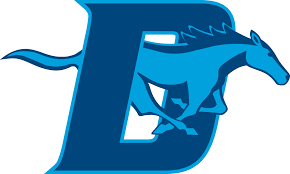 On Wednesday, Sept.16th, the DGS girls cross country team traveled to Proviso West HS to face off with Proviso East. The Mustangs raced the Pirates on the lengthy, 3.2 mile PW campus course. DGS prevailed in the opening varsity race by the score 15-50 over PE who only raced 1 athlete. Sophia McNerney (Jr) ran away from the field yet again, en route to an individual win with a time of 19:06. Sophia's time, when converted to our standard 3.0 mile distance was an impressive 17:50. Kelsey Casella (Jr) also ran a great race, finishing 2nd in 19:56/18:36. Rebecca Diddia (Sr-21:13/19:48), Madi Sisson (Jr-21:16/19:51), and Nora Joy (So-21:54/20:27) completed the varsity scoring places (3rd, 4th, & 6th respectively) with the lone Proviso East runner placing 5th overall in 21:48/20:27.
In the JV race, a group of Proviso East runners who were new to the team, only raced for the first 1.5 miles. Angie Hernandez (Jr) led pretty much the entire race, leading to her individual victory in 24:36/22:58. Elizabeth  Laverty (Fr) ran a strong 2nd half to put herself in 2nd place in 25:34/23:52. Bella Lapacek (Jr) started strong and then hung on to 3rd place with a time of 26:03/24:19. Amelia Bicek (Fr) was close behind Bella  for much of the race, finishing in 4th place in 26:34/24:48. Chloe Dawson (Sr-27:15/25:26) came on strong in the final mile of the race to complete the 1-5 sweep of the scoring places for the Mustangs.
Overall, it was a good after school race for the team! DGS results with splits can be found on the CC Schedule/Results page. Complete race results can be found on Athletic.net. Race videos from our Twitter Live broadcast can be found below.
Varsity Race Twitter Live video
DGS vs PE -Race 1 https://t.co/5maPP2ecSh

— DGS Girls Distance (@DGSCC) September 16, 2020
JV Race Twitter Live video
DGS vs PE -Race 2 https://t.co/ymyNA41lUu

— DGS Girls Distance (@DGSCC) September 16, 2020