DGS Girls Track season underway!
2 min read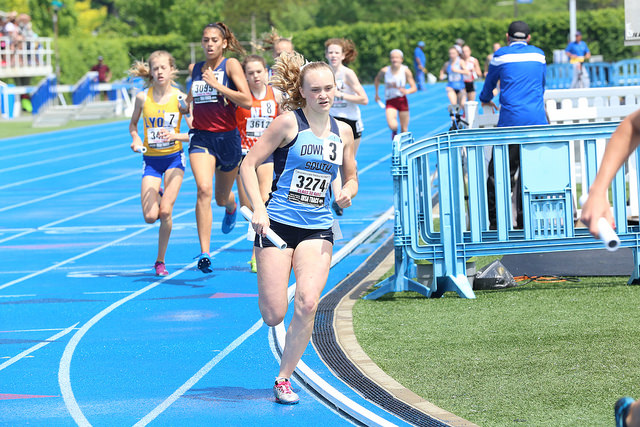 On Tuesday, Jan.21st, the DGS Girls track & field team began the long journey of the 2020 season. The Mustangs return three All-State athletes and a total of five girls with State meet experience. They will hopefully be joined by a cast of young, enthusiastic athletes that will help propel DGS to another successful season!
Erin Reidy (Sr) and Brenna Cohoon (Sr) lead a strong group of distance runners as returning individual All-State runners. Erin placed 3rd at State in the 800m run last season and also anchored the 6th place 4x800m relay team. Brenna placed 4th in the 3200m run. Both Erin and Brenna will attempt to improve upon those finishes this season. Rebecca Diddia (Jr) was also part of the all-state 4x800m team (along with the other two runners that graduated). Kennedy Warden (Sr) was a state qualifier in the 1600m run. Rebecca and Kennedy expect to lead the rest of our distance crew and return to the State meet this season.
After a breakout cross country season, Sophia McNerney (So) will look to contribute in the longer distances. Fellow sophomores, Alex Spang (So), Kelsey Casella (So), Renee Kowalski (So), Sara Homberg (So), and Madi Sisson (So) are poised to round out most of the remaining varsity distance line-up. Freshmen Dana Rodden (Fr), Nora Joy (Fr), Madelyn Sumlin (Fr), Anjali Kota (Fr), Skyler Tomecki (Fr), and Arianna DeLeon (Fr) will also look to improve upon their successful cross country seasons and contribute to the DGS cause.
The jumping group will be lead this year by Ari Johnson (Sr). As a returning state qualifier in both long and triple jump she will be looking to get back to the blue track with experience behind her. Aamari Taylor (11) will be making her mark in all three jumping events and is someone to keep an eye on for a break-out season.
We also have a group of returning upperclassmen who could contribute to successful sprint relays with Kamile Dirzys (Sr), Josephine Brobby (11), Jada Avalo-Worsham (11), Elizabeth Campbell (12), Ari Johnson (12), and Aamari Taylor (11). All of these girls will be coming into the season with relay experience and strong work ethic.
Our 300H and 400m runners to watch for are Kamile Dirzys (12), Gianna Villarreal (10), and Emma Lopez (10). All of these girls showed wonderful improvement throughout last year's season and this momentum will be carried throughout the start of this season.
The Mustangs will open the 2020 season on Saturday, Feb.15th at Hinsdale Central.