Mustangs defeat Willowbrook & Proviso East!
1 min read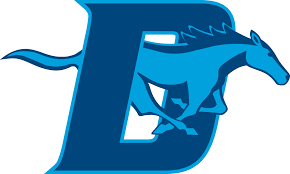 On Monday, September 13, the DGS girls cross country team traveled to Willowbrook HS to face off with the host Warriors as well as the Pirates from Proviso East. The Mustangs were victorious with a perfect 15-50 score versus both teams. This moves the DGS conference record to 3-0 for the season.
Sophie Ring (So) led the Mustangs with her individual victory in the 3.0 mile race on the Willowbrook campus course. Sophie's time of 20:45 is a season best. Sophie was followed into the chute by 7 more DGS runners. Elizabeth Culcasi (Jr) ran 21:12 for 2nd place while Sophia Nelson (So) ran 21:34 for 3rd place. Madelyn Sumlin (Jr), Skyler Tomecki (Jr), Arianna DeLeon (Jr), Madolyn Werner (Sr), and Lindsay Spear (Jr) were all within a minute of each other completing the 1-8 sweep with times between 21:50 and 22:41.
Results with splits can be found on the Schedule/Results page. All levels compete this Saturday at the Richard Spring Invitational hosted by Peoria Notre Dame HS at Detweiller Park. On Monday, September 20, DGS will host a triangular meet vs. Morton and Addison Trail. This meet will also serve as our Senior Night! Come out to O'Brien Park on Monday to see the Mustangs race in our only HOME meet of the season!