Mustangs win Richard Spring Invite!
3 min read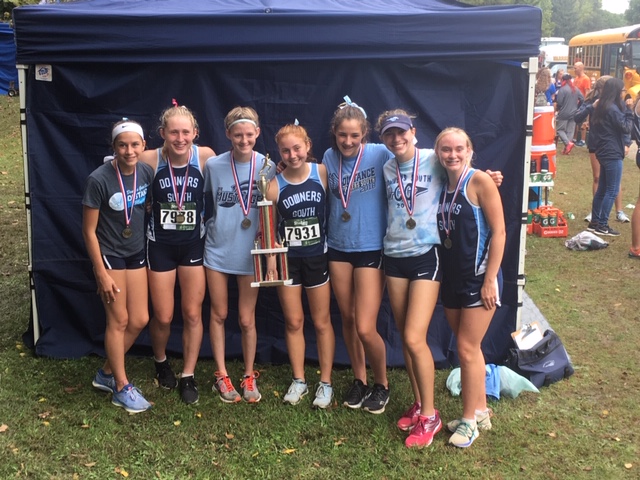 The DGS girls cross country team remains undefeated after dominating the field at the Richard Spring Invite. Peoria Notre Dame hosted the 66-team invitational meet on the state meet course at Detweiller Park. The meet boasted a talented field of teams that included 3 of the top 6 teams in the state, and 12 of the top 25. It also included a team from Claremont, California that finished 12th in the nation last season. Despite the high level of competition, DGS was able to run away with the victory, scoring 95 points to finish ahead of Glenbard West (191 pts), Claremont (212 pts), Hinsdale Central (226 pts), York (255 pts), and 60 other teams.
The Mustangs were led once again by Brenna Cohoon (Sr) who placed 10th overall in the race of over 450 runners. Brenna ran a season best time of 17:30 for the 3 mile course. Erin Reidy (Sr) and Sophia McNerney (So) also ran season best times and finished close behind Cohoon. Erin placed 12th with a time of 17:35 and Sophia placed 15th in 17:36. This trio of DGS runners all finishing in the top 15 gave the Mustangs a strong presence up front and a great opportunity to win the race! Another trio of DGS girls ran together for the majority of the race and sealed the victory with strong finishes and season best times. Kennedy Warden (Sr) led this group into the chute in 30th place with a time of 18:07. Alex Spang (So) was not far behind in 33rd place in 18:14. And Rebecca Diddia (Jr) crossed the line at 18:24 in 42nd place. DGS had 6 runners into the chute before any other team had their 4th runner finish. Kelsey Casella (So) completed the varsity scoring for DGS with her 87th place finish in 19:01. This group will face an even bigger test next Friday when they travel to Arizona to compete in the Nike Desert Twilight Invite. A competitive field that will include several nationally ranked programs will provide a great challenge for our Mustangs.
The DGS Frosh-Soph team also ran extremely well, finishing in 2nd place out of 36 teams competing. Renee Kowalski (So) led the Mustangs with her 5th place finish in the race of 278 runners. Renee ran a season best time of 19:12 and was followed by Sara Homberg (So) in 19th place (19:51), Madi Sisson (So) in 21st place (19:55), Dana Rodden (Fr) in 24th place (19:56), and Madelyn Sumlin (Fr) in 37th place (20:11). Both Nora Joy (Fr) and Elizabeth Culcasi (Fr) completed the Mustang scoring with 57th and 133rd place finishes respectively. Nora ran 20:36 and Elizabeth ran 21:43. This bodes well for the future with 3 other sophomores that are already competing with the varsity team!
In the JV race, DGS placed 9th out of 41 teams competing. Ria Patel (Jr) was the top Mustang finisher, placing 19th out of 584 runners. Ria completed the 3 mile course in 20:21. Anjali Kota (Fr) placed 53rd in 21:12, followed by Skyler Tomecki (Fr) in 70th place (21:30), Madolyn Werner (So) in 76th (21:36), and Maya Wilson (Fr) in 77th (21:37). Peyton Horazy (So) and Arianna DeLeon (Fr) completed the Mustang scoring with their 85th and 92nd place finishes in 21:42 and 21:48 respectively. With 6 of these 7 girls being freshmen or sophomores, that again bodes well for the future of Mustang cross country!
The F/S and JV teams will compete on Monday in a triangular meet versus Morton and Proviso East. They will race again next Friday night at the Naperville North Invite.
Full meet results can be found on Athletic.net. Individual times and splits can be found on the Schedule/Results page.  Video highlights from the varsity race can be found on the Pictures/Video page.