Busy Summer for CC team!
2 min read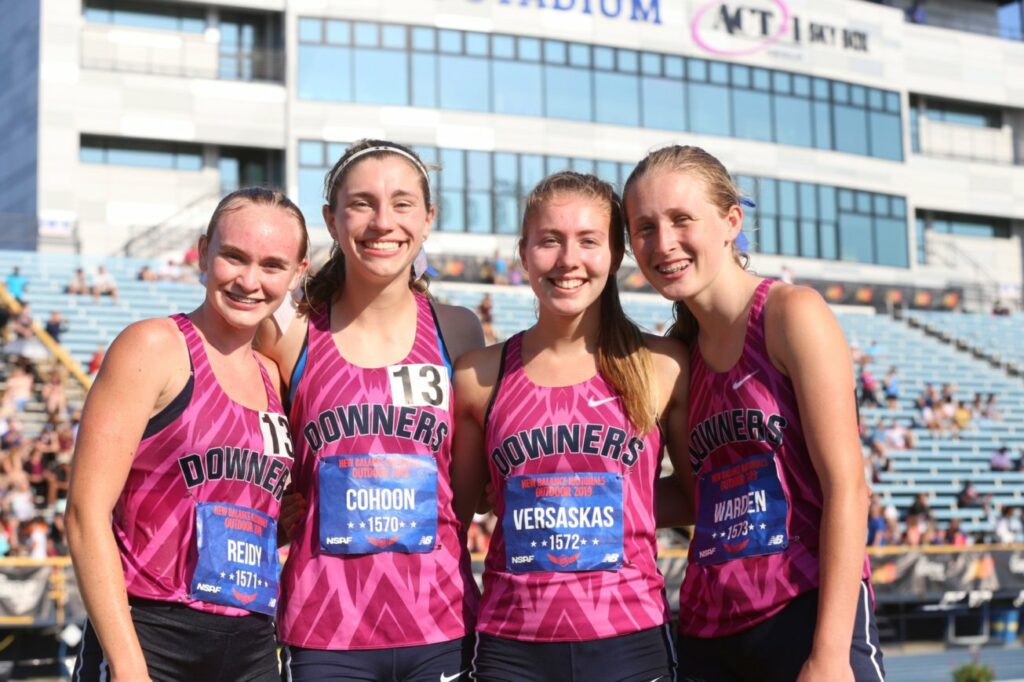 While most high school students are staying up late, sleeping in, and generally not accomplishing much, the DGS girls cross country team is making good use of this time and preparing for the upcoming 2019 fall season. The months of June and July are always packed with lots of miles and lots of team activities.  And this year is no different.
Here are some highlights from June.
June 10-27th. The first 3 weeks of CC camp. This included getting to know the new freshmen, easing back into running shape, playing frisbee, multiple pool parties, Saturday runs hosted by various team members, and lots of popsicles!
Every Friday:  Waterfall Glen Long Runs. Always the best run of the week on the trails of Waterfall Glen, followed by a picnic of great food!
June 16th:  DGS 4x1mile relay team finished 15th at the New Balance Outdoor Nationals meet. Four Mustangs (Erin Reidy, Brenna Cohoon, Kennedy Warden, and Becky Versaskas) traveled to Greensboro, North Carolina to compete in the New Balance Outdoor Nationals meet. Each girl ran a full mile on the track as part of this relay. While it didn't end up being our best race, the girls ran well enough to finish 15th overall in the nation. Congrats ladies!
June 28th:  Downtown Chicago Run on the lakefront. We had 39 girls that traveled by train, boat, and on foot to get to the Ohio Street beach on the Chicago lakefront. From there the girls did a long run on the lakefront path, followed by some fun time on the beach and in the water. It was short walk over to Navy Pier to eat lunch before reversing the path back to Downers Grove.
June 29th-July 5th: Captains Week #1. A full week of running with dress-up days and no coaches!
Still to come:
July 8-Aug 1st: The last weeks of summer CC camp and the beginning of Jr. High CC camp.
July 10th:  Movie Night at the Track at 8:30pm.
July 13th:  Girls CC Car Wash at DGS from 10:00am-1:00pm.
July 25-27th:  Team Camping Trip at Camp Wokanda in Chillicothe, IL.
July 26th:  Detweiller at Dark Race on the State Meet course under the lights!
August 5-9th: Captains Week #2.
August 12th:  The 2019 CC season begins at 7:00am!