Regional Champs!
2 min read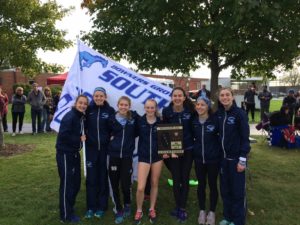 On Saturday, the DGS girls cross country team traveled to Lockport to compete in the 1st round of the IHSA state series. The Mustangs placed 1st out of 10 teams by scoring 43 pts, just ahead of the host Lockport team (48 pts) to win the regional title.
Brenna Cohoon (Fr) was the top DGS finisher, placing 5th overall and earning All-Regional honors. She was followed closely by Melissa Weidner (So) in 7th place, Katie Stapleton (Sr) in 9th place, Erin Reidy (Fr) in 10th place, and Becky Versaskas (So) in 12th place. Olivia Duax (So) and Allison Calek (So) placed 29th and 35th respectively.
The hilly Dellwood Park course proved to be as much of an opponent as the rest of the field as the Mustangs battled through the race. Early on, it was obvious that it was a 3-team race between DGS, Lockport, and Plainfield North. Lockport made the first move and took control of the race at the beginning, as their top 3 runners were all placed in the top 5. Katie was the lone Mustang in the lead pack along with 2 Plainfield North runners. The main pack of DGS runners followed behind in roughly 10th through 15th places as they approached the 3/4 mile mark.
Positions remained basically the same throughout the first 1.5 miles. At that point Katie started to fall back some, while Brenna and Melissa caught up to her. Over the next mile, all of the DGS runners rearranged into their final finishing order. Lockport still had 3 girls ahead of our first, but we had closed the gap on them. Our pack of 5 was ahead of their 4th and 5th runners, but they still held a slight lead in the race at that point. Plainfield North still had 2 girls in the top 3, but their next 3 girls were too far back to make a difference in the team scoring.
Over the final 1/2 mile, the DGS pack continued to inch forward. Both Brenna and Melissa each passed Lockport runners in the final 200m to help transition a very close race into a 5 point victory. As has been the case all season long, this team has stepped up to help each other out. When some girls struggle, others have helped carry the load. This regional championship was truly a team effort!
The most important result of the day was qualifying on to next week's IHSA Sectional meet. The girls will compete at the Marist sectional at Midlothian Meadows forest preserve on Saturday, October 29th at 10:00 am. The top 5 teams out of the 19 competing will qualify for the State Meet.
Full meet results can be found on Athletic.net and pictures from the meet can be found on our Pictures/Video page.