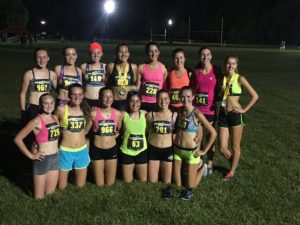 Fourteen girls traveled to Peoria to compete in the 2016 Detweiller at Dark race last night. The conditions were still tough at the 9:15 pm race time with temps in the low 80's, but the humidity was off the charts. Despite the weather, the girls performed very well (July 22 Detweiller at Dark 2016).
While the official 2016 does not begin until August 10, team scores were calculated based on the various high school teams all the girls compete for. The team from Carmel, Indiana, a perennial top 10 team in the nation, made the trip to Peoria to compete and took home 1st place honors. Yorkville, an Illinois powerhouse, finished 2nd. A team made up of recent Yorkville and Oswego graduates combined to take 3rd. DGS was divided into two teams of 7 runners each, and the DGS Blue team placed 4th, while the DGS White team place 16th out of a total of 28 competing teams. See full team scores here: July 22 Detweiller at Dark Team Scores 2016.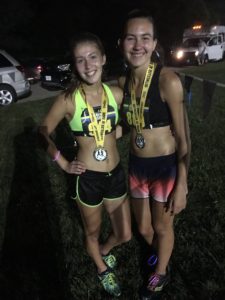 Becky Versaskas (So) and Katie Stapleton (Sr) led the Mustangs with their top 25 finishes (15th and 23rd respectively). Video highlights from the race can be found at DyeStatIL. Additional pictures from the race can be found on the Pictures and Video page.
The girls will complete the last week of summer cross country camp this week and then have a week of captain's practices before the season begins on Wednesday, August 10th.