DGS defeats Addison Trail
2 min read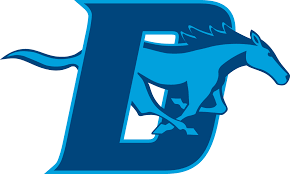 On Saturday, Sept.5th, the DGS girls cross country team hosted their first official meet of the season. DGS raced Addison Trail on the new 3.0 mile DGS campus course. The Mustangs prevailed in the opening varsity race by the score 18-45 over the Blazers. Sophia McNerney (Jr) ran away from the field en route to a convincing individual win with a time of 17:30. Sophia's time is particularly impressive considering the layout of our new course with so many turns. As this is the first ever race on this course, Sophia's time is now the course record! Kelsey Casella (Jr) also ran a great race, finishing 2nd in 18:33. Kelsey battled with the #1 runner from Addison Trail, Viviana Sanfalippo (Sr), throughout the first 2 miles of the race. In the 3rd mile, Kelsey pulled away and beat her by nearly 40 seconds. Rebecca Diddia (Sr-19:11), Alex Spang (Jr-19:51), and Nora Joy (So-20:08) completed the varsity scoring places as DGS placed 11 of the first 12 finishers.
In the JV race, a group of Addison Trail runners led the first half of the race until a trio of Mustangs finally caught and passed them. Maya Scheck (Sr) led DGS, running a strong 2nd half to pull away for the individual victory in 25:20. Abbey McGinley (Fr) ran much of the race next to Maya, working as a team to taking over the race lead. Abby ended up in 2nd place with a time of 25:34. Summer Kruk (Jr) was close behind Maya and Abbey for much of the race, finishing in 3rd place in 25:39. Both Lilliana Jaeger (Fr-26:01) and Grace Stapleton (Fr-26:14) came on strong in the final mile of the race to pass the Blazer pack, and complete the 1-5 sweep of the scoring places for the Mustangs.
All in all, it was a great way to start of the 2020 season! DGS results with splits can be found on the CC Schedule/Results page. Complete race results can be found on Athletic.net. Race videos from our Twitter Live broadcast can be found below.
Varsity Race Twitter Live video
DGS vs Addison Trail https://t.co/0ZPKyK4lDG

— DGS Girls Distance (@DGSCC) September 5, 2020
JV Race Twitter Live video
DGS vs Addison Trail -Race 2 https://t.co/aMr2844pSR

— DGS Girls Distance (@DGSCC) September 5, 2020