Benet Invite Results
2 min read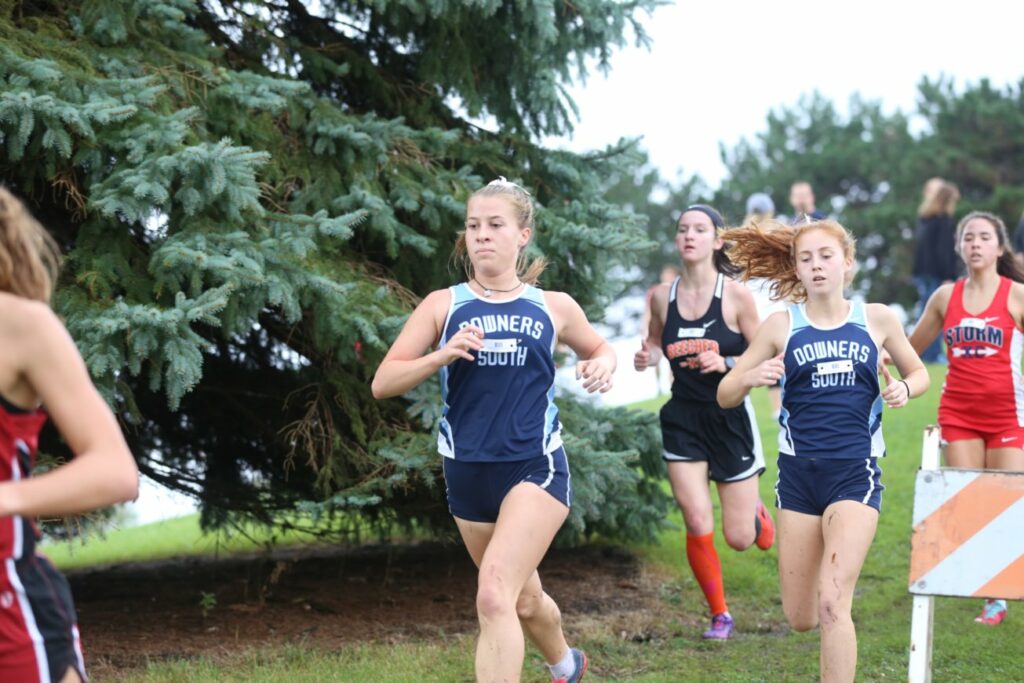 The DGS girls cross country team traveled to Lisle Community Park to compete in the Benet Invite on Saturday, October 6th. It was a rainy morning, but the weather broke long enough to get all of the races in. While the DGS varsity top 7 did not compete, the remaining Mustangs had a really good day on wet & muddy 3 mile course. The Frosh-Soph team started the day off with a narrow victory over the host Benet Academy team 31-36 in the 10 team invitational. Lincoln-Way East was 3rd with 67 points. Sara Homberg (Fr) led the Mustangs with her individual 2nd place finish. Gretchen Scheck (Fr) followed closely behind in 3rd place, while Ria Patel (So) and Maya Scheck (So) finished in 7th and 8th place respectively. Renee Nicholson (So) was the 5th scoring runner for DGS, finishing in 11th place. Renee Kowalski (Fr) and Madison Wies (So) rounded out the team with 15th and 22nd place finishes in the 60 person race.
In the varsity race, DGS finished 2nd out of 12 teams while running only 5 girls. Benet Academy, ranked among the top 25 in the state, won the varsity team title. Sophia McNerney (Fr), Olivia Duax (Sr), and Kelsey Casella (Fr) all finished closely together in 5th, 6th, and 7th places to lead the small Mustang contingent. Allison Calek (Sr) was 25th and Michelle Kurcina (Sr) finished in 34th to round out the DGS scoring among the 83 varsity runners.
With the threat of a thunderstorm coming, meet officials chose to combine the JV boys and JV girls into one race. It made for a more crowded course, but the DGS girls held their own in a field of more than 350 total runners and almost 200 girls. Team-wise, the Mustangs once again finished 2nd to the host team from Benet Academy. But Julie LaLonde (Sr) stood out winning the 3.0 mile girls race! Julie took the lead for good with about 400m to go and held off a late charge by a Benet girl. Meghan Stapleton (So) finished in 6th place, while Olivia Meyer (So) and Peyton Horazy (Fr) finished in 12th and 13th place respectively. Emma Lopez (Fr) was the final Mustang scorer in 19th place. Teagan Halik (Sr) and Madolyn Werner (Fr) finished in 22nd and 27yth places for the Mustangs.
Individual results from the meet can be found on the Schedule/Results page. Pictures from the meet can be found on the Pictures/Video page. DGS will conclude the regular season next Saturday with the WSC Gold Conference Championship meet at Harvester Park in Burr Ridge. Races will begin at 1:30pm.